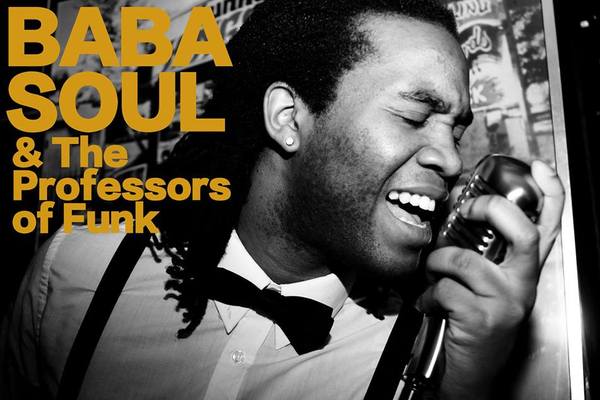 Baba Soul & The professors of funk
Kr 150,- / 22.02.14 22:00
Del denne siden
This is the sound of Baba Soul.
A twenty seven year old aspiring artist from Lisbon, Portugal, currently living in Oslo. Baba - aka Hugo Pereira Castro, has contributed with lyrics and vocals on his songs ever.

Baba started singing in 2004 working with fellow musicians from Lisbon like the rap and r'n'b group Manosquad, Baba Bhuda e Conexao and Soul Fresh. There is no limit to what style Baba can enjoy performing or listening to, and he is one of the few young talents who doesn't fall into the trap of unoriginal ventures trying to copy the today's big stars of R & B and Rap. Not that Baba doesn't appreciate these type of expressions, but Baba's heart and soul is first and foremost focused on vocal performances backed up by innovative, unrestrained soulful acts with roots and influences that comes from African roots music, Cap Verde influences, reggae and the rhythms of Latin American traditions of all sorts. American soul, gospel, rhythm and blues are needless to mention, as they naturally are a big influence on him.
The uniqueness of Baba's talent is his free approach, playfulness and willingness to explore different ways of expressions. Combined with the ambition, passion and dream to perform for an audience of diversity and let as many people as possible enjoy his heartfelt warm vocals and seductive performances, it will not surprise me if Baba will make his dream come true. Feel free to give comments and be Baba's friend. Baba music forever!
The professors of funk is baba Souls excellent backing band:
Hugo Castro- vocal
Stian Nordiviste- drums
Guilherme Camara- guitar
Øystein Bendos-bass
Vincent velur- keyboard
Bjor Einar- percussion
Bendik Braenne- saxophone
Andreas lovold- trumpet
Kristian H.K- Trombone
http://www.babasoul.com